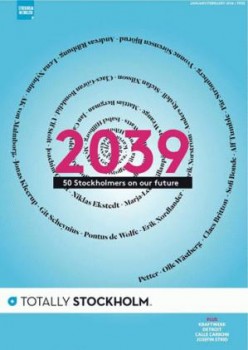 "The only true voyage would be not to travel through a hundred different lands with the same pair of eyes, but to see the same land through a hundred different pairs of eyes" – Marcel Proust
When trying to predict how a future Stockholm might look we thought we should approach the subject in the spirit of Proust. And while we're quoting former thinkers let's throw in Abraham Lincoln and his memorable line: "The best way to predict your future is to create it."
We rounded up 50 creative Stockholmer's to ask how their city will look, smell and sound in 25 years from now – what will we achieve and what do we want to become?
Welcome to 2039.
Read all statements on link below:
http://totallystockholm.se/more/stockholm-2039/
Pär Strömberg, artist and wine columnist

Stockholm has grown stronger and bigger in the sense of cultural and social understanding. We are now the big city we always pretended to be, not just in the minds of various free thinkers. We will see a more progressive secularism and the cultural sector will gain more power on behalf of organized religion. There is a more outspoken equality and respect towards each other, where care for the elderly and our young are prioritized over big and global corporate profits. Stockholm will have lot's of local wine dealers (without the monopoly), open permissive bars and hang-outs and a great and more developed (independent) cultural scene.