Those of the Unlight – A painting project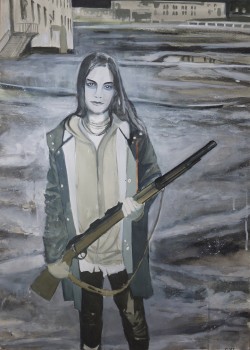 Finissage at Riche Lilla Baren
Tuesday 29/9 17.00-20.00 (last day of the exhibition)
http://riche.se/sv-se/eventdetail/?event_id=762
Stockholm based artist, Pär Strömberg appropriates the imagery of Romanticism alongside the iconography of Black Metal and Satanism.
Mostly known for his vast and deserted landscape paintings, of cold winter woods and starless nights, this project takes a slightly different tour into to the area of portraiture.
The title Those of the Unlight is taken from the second album of Swedish Black metal pioneers Marduk. Brought up in rural Sweden where Christian values permeated his youth, early Heavy Metal and later in the early 90′s partaking of the Scandinavian Black Metal scene offered a form of rebellion that infected the morals of Christian society, even turning a small number of participants into arsonists and murderers.
Rebellion and an anti-everything mentality inspire Strömberg's practice and he continually draws from this period in his youth. For a subculture so male-centric, Strömberg has chosen to focus upon the female participants. These young women, mainly girls from catholic backgrounds, use the machoistic iconography of Black Metal bands to make a new form of rebellious statement, hashtagging themselves within social media as #blackmetalgirls and claiming the subculture as their own.
In portraying their 'selfies' in watercolour, Strömberg hopes to evaluate their status within the tropes of Romanticism. In its stylistic diversity and range of subjects, Romanticism defies simple categorization. As the poet and critic Charles Baudelaire wrote in 1846, "Romanticism is precisely situated neither in choice of subject nor in exact truth, but in a way of feeling."
Pär Strömberg born in Örebro, Sweden in 1972, lives and works in Stockholm, Sweden and Amsterdam, The Netherlands. Strömberg graduated from Gerrit Rietveld Academie, Amsterdam in 1999 and from Royal Institute of Art, Stockholm in 2013 . He was nomineed for the Royal Dutch Painting Prize on four occasions and won the Wim Izaks paintings prize in the Netherlands. He current holds the Cecilia Frisendahls Lithography Grant from the Stockholm Lithography Museum. He has had numerous exhibitions across Europe and the USA. Recent shows includes Charles Bank Gallery in New York, Ron Mandos in Amsterdam, various art fairs across Europe and a solo show in Los Angeles with Coagula Curatorial is soon coming up. His work is included in the following collections: Museum Het Domein Sittard (NL), Caldic Collectie Rotterdam (NL), Akzo Nobel Art Foundation Amsterdam (NL), Peter Drake Collection (NL), Hugo & Carla Brown Collection (NL), Örebro Läns Museum (S) and many more. Strömberg also teaches painting at the Örebro College of Art and is a noted wine enthusiast, writing for several magazines.
Press:
Beautiful Bizarre
Eventsbook.net
Totally Stockholm
Wherevent.com
Wyrd Words & Effegies