A recent article on Pär Strömbergs work has been published in Cvltnation.com by writer Katie Metcalfe.
Read it in full here: http://www.cvltnation.com/par-stromberg-dark-art-from-the-far-north/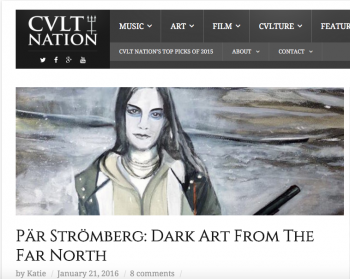 Upcoming exhibition:
Dean Clough Gallery in Halifax, UK.
A collaborative exhibition between PAPER from Manchester and Charlie Smith Gallery in London
Semiotic Guerrilla Warfare III
It's the grand opening of the Spring 2016 shows at Dean Clough this Saturday (30th January). Come and meet the artists between noon and 2.00pm… starting with Helen Clapcott, whose wonderful 'tempera on ghesso' pictures of Stockport's fading industrial heritage are increasingly celebrated.
Click on the flipbook link for all the details:
http://online.flipbuilder.com/nfoq/ggbv/