Two brand new lithographies, just a few editions for sale (only 13 of each available), commisioned by Swedish art club JFF and printed at Sibirien Lito i Stockholm, Sweden. Signed and numbered in edition of 175 per image (40 x 30 cm print with passepartout).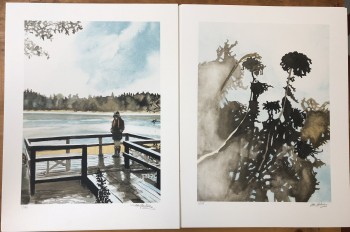 Each 2.800 SEK (incl. VAT, packing and shipping costs)
To buy the lithography, please send an e-mail to info@parstromberg.se with the requested print (left or right) and your full shipping address and you will receive a confirmation mail back with payment details. Upon receiving of full payment to our account, the items will be shipped out a.s.a.p. with controlled and secure post.
All prices are in Swedish Krona – SEK and are including VAT and shipping costs. For currency converter to € Euro, $ US Dollars, £ GB Pounds or any other currency, please visit: http://www.xe.com/ucc/
First come, first served!