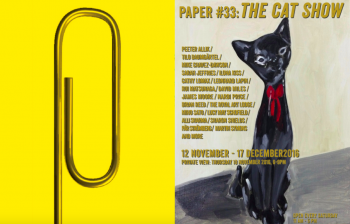 PAPER #33: The Cat Show Exhibition dates: 12 November – 17 December 2016
Private View: Thursday 10 November 2016
Featuring a number of artists including: Pär Strömberg Peeter Allik, Tilo Baumgärtel, Alan Birch, Mike Chavez-Dawson, David Hancock, Sarah Jeffries, Ilona Kiss, Leonard Lapin, Cathy Lomax, Rui Matsunaga, David Miles, James Moore, Narbi Price, Brian Reed, The Royal Art Lodge, Miho Sato, Lucy May Schofield, Sharon Shields, Martin Symons Lisa Wilkens and more.
"Kittens" was the answer Tim Bernes Lees famously gave in a Reddit AMA (Ask Me Anything) when asked what was the one thing that surprised him most about the way his invention of the World Wide Web has been adopted, 25 years on. It hardly needs stating: The Internet has provided us with instant access to an unprecedented amount of knowledge (power) and an incredible tool for mass communication (mobilization). Yet "Cats" is one of the most commonly searched for keywords, cat videos and images are among the highest viewed online content (described in the New York Times as 'the essential building block of the Internet'), and cat celebrities are abound (Grumpy Cat, Lil Bub, Maru, Nala Cat and Cattycake to name a few). An entire subculture has developed around LOLcat memes.
More info: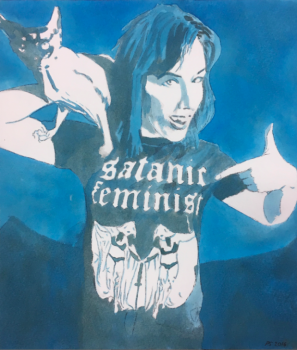 Pär Strömberg
Satanic Feminist Kitten
Ink and watercolor on paper
23 x 20 cm
2016
£500