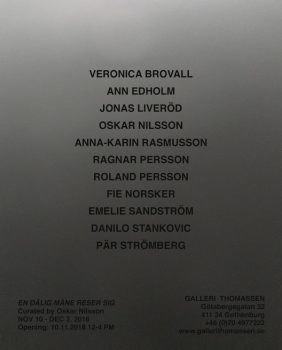 curated by Oskar Nilsson
November 10 – December 2, 2018
Opening: Saturday, November 10, 12-16 (12-4 PM)
Galleri Thomassen is pleased to present En Dålig Måne Reser Sig, an exhibition curated by artist Oskar Nilsson. The initial idea for the exhibition came to Oskar when listening to Creedence Clearwater Revival's doomsday song "Bad Moon Rising" while driving along the highway right by the ocean on the west coast of Sweden. The song from CCR's 1969 "Green River" album couldn't be more current during these times when extreme weather and global warming is commanding headlines across the globe.

Bad Moon Rising´s apocalyptic lyrics serves as the exhibition´s point of departure. Oskar has selected a group of artists whose work relate to the song´s evocation of doom, different natural phenomena and the inevitability of existence. A group of artists who might understand the swamps, the moon and catastrophe, and maybe CCR.
Participating artists: Veronica Brovall, Ann Edholm, Jonas Liveröd, Oskar Nilsson, Fie Norsker, Ragnar Persson, Roland Persson, Anna-Karin Rasmusson, Emelie Sandström, Danilo Stankovic,
Pär Strömberg.

"There's a bad moon on the rise
I hear hurricanes a blowing
I know the end is coming soon
I fear rivers over flowing
I hear the voice of rage and ruin
Well don't go around tonight
Well it's bound to take your life
There's a bad moon on the rise, oh right
Hope you got your things together
Hope you are quite prepared to die
Looks like…"

/Bad Moon Rising
Welcome!