CHARLIE SMITH LONDON
Exhibition dates: 17 February – 25 March 2017
Private View: Thursday 16 February 2016, 6-9pm
Opening Times: Wednesdays – Saturdays, 11 – 6pm
Hermione Allsopp / Jemima Brown / Andrea Cotton / Lisa Denyer / Tracey Eastham / Zavier Ellis / David Hancock / Florian Heinke / Phill Hopkins / Hilde Krohn Huse / Sam Jackson / Monica Ursina Jäger / Vincent James / Chris Jones / Richard Meaghan / Alex Gene Morrison / Narbi Price / Mitra Saboury / Jenny Steele / Pär Strömberg / Zhu Tian / Lisa Wilkens / Simon Woolham / Hannah Wooll / THE CULT OF RAMM:ΣLL:ZΣΣ featuring Yang Younghee
Semiotic Guerilla Warfare marks a new collaboration between CHARLIE SMITH LONDON and PAPER presented at the London gallery. The artists assembled create artwork from any materials that come to hand; creating a theoretical collage of themes: linguistics, text, the city, psychogeography, found images, appropriation, youth / underground culture, networks, cults / rituals. Exploring popular culture in an attempt to de-value the art object and elevate everyday objects. Semiotic Guerrilla Warfare presents found objects, mass-produced materials, and a lo-fi aesthetics to create a new visual language that comments upon the disposable nature of our culture and society.
The purchase of commodities can be seen to offer a sense of freedom and an escape. By manipulating and appropriating high street fashions youth subcultures create a unique identity and transform themselves into street art. These concepts might be equally applied to artists, who use appropriation in their art to subvert the meaning of the subjects that they transform. This creative use of commodities is exploited for the purpose of resistance, altering the meaning of a chosen mass produced object through the concept of bricolage. This cultural appropriation or theft and transformation of a commodity highlights each of these artists as conspicuous consumers. Dick Hebdige, the subcultural theorist, quoting Umberto Eco, describes these subversive practices as "semiotic guerrilla warfare"; raiding the dominant culture for their trophies. These commodities are desired simply because they are status symbols of the privileged. They are essentially "empty fetishes", desired and appropriated from those that are their antithesis. These artists essentially adopt the lifestyles they appropriate, employing their visual language to subvert the meaning of the very images they incorporate into their work.
The exhibition contains individual works from internationally renowned artists such as Chris Jones, Jemima Brown, Florian Heinke, Pär Strömberg, Lisa Wilkens, Phill Hopkins, and John Moore's prizewinner, Narbi Price. Alongside these artists is the avant-garde cyber Hip Hop performance art group, The Cult of RAMM:ΣLL:ZΣΣ, present <The Book of Bitumen>, a residue recording the Cults' live street performance rituals.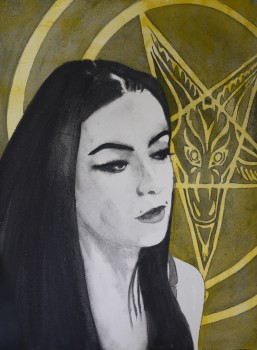 BMG #10
Watercolour on Paper
31 x 23cm
2015
£666