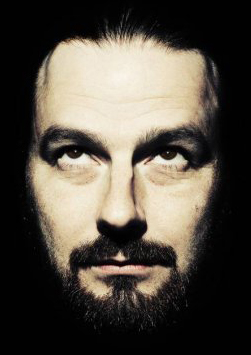 Born 1972 in Örebro, Sweden – Lives and works i Amsterdam, The Netherlands and Stockholm, Sweden. Currently teaching painting at Örebro College of Art, Sweden.
Content of my work:
During the past 12 years, since my graduation at the Rietveld Academy in Amsterdam, the themes and the narrative in my work revolved around folklore, nature mysticism, dream / nightmare scenarios and of human wonder and smallness before a grand nature. The motifs are mostly from the geographic areas around my home state Örebro in Sweden. My grandmother's father was at one time forester and worked in southern Bergslagen and Kilsbergen among places like Fasaskogen, Jätteberget and the mysterious lake Tunntappen. Places that I've heard about in stories and legends, places that are my origin and which formed the basis of myth in my work and who arouses a certain exoticism in my pictures when I usually exhibit at the international art scene.
The shades of gray, dark and seemingly bleak landscapes is bursting with hidden light sources and display a range of color that require a certain amount of patience and tranquility of its audience. The images clears up gradually and giving seductive invitations to places, experiences and memories deep in our human psyche.
Despite the post-apocalyptic mood of the painting lies a certain reassuring calm of the atmosphere, something that emerges through the many layers of paint, the clear distinctive technology and the austere temperament in the coloring. The characteristics of the oil paintings are a kind of layering techniques much like watercolor painting with thin layers of transparent color and chunks of running structures.
The often large canvases invite you to a physical participation, while the smaller formats are more intimate and mixed up with the inner landscape of an external collective memory of the forces of nature.
The viewer is taken along on a trip to the frozen fields, deep forests, caves, uprooted trees and starless nights with full moon. Without getting too allegorical in symbolic language, there are crows, trails in snow, lights and sometimes human characters in the picture where titles often can be used as guidelines. Here I choose, however, according to a symbolist doctrine, preserve the mystery of the image. The eternal questions of life and death, light and darkness mixed up with the past, memories and an untamed nature.
Inspiration comes not only from the wild nature but often found in art history, music and literature in which sounds and texts brings images. Just to mention a few, Carl Fredrik Hill in the question of form and that of August Strindberg in color. Energy and the austere symbolism I find the Black Metal music and the narrative and rigor in texts by Tomas Tranströmer and Dan Anderson. There is even a flirtation with national romanticism in the big bombastic works but that side is often toned down in the smaller formats which shows a more poetically beautiful and evocative atmosphere.
————————————————–
Other text about my work:
My paintings show silent landscapes. The works refer to the dense Swedish nature, beautiful but deserted, uncanny but seductive. Just like in nature, the light and darkness are important elements in the paintings. I paint snow, ice, forests and mountains in this – as I call them – mindscapes, rich in colours under their deep hues of black, white and grey.
I have lived, had my studies, and showed my work, mostly abroad where my work has attracted an extra value of exoticism, something I now would like to deepen and ground whilst moved back in Sweden. In my work I flirt with the Scandinavian national romanticism and post-apocalyptic alienation.
Inspiration I find not only in art history (like in the work of fellow Scandinavian artists like August Strindberg and Theodor Kittelsen), also in literature, (for ex. in my latest series of paintings: Jules Verne, The Mysterious Island, P. O. Enquist, Captain Nemo's Library) in contemporary film and in black metal music and it's influences from occult and pagan symbolism.
My work may also be construed as dealing with a sort of New Ageism and a passion for the idealistic, but I refuse it to tip over into a quasi-religious overindulgence or turn into a blank projection surface for nationalistic ideas. German Caspar David Friedrich might spring to mind, or perhaps, more accurately, Nicholas Roerich, who, with his passion for heathen Russia and the peaks of the Himalayas, combined mysticism and humanism.
In my paintings, nature plays the leading role and the insignificant humans are only foreshadowed by their absence, in later work, they may appear, though merely as mirror images of oneself.
Symbolic imagery plays an important part in my work. To mention a few, Crows as an omen of death, floating between past, future and present, the Moon as a guiding light in darkness and the landscape as a metaphor for our psyche. My later works may go beyond the ambiguous play of darkness and light and in to a new investigation of our human relation to nature. My paintings refer to old myths but I paint them in a contemporary and specific style and in a well-made and developed technique.
Pär Strömberg Stockholm 2011-02-16
CV Pär Strömberg
Biography:
Born 1972 in Örebro – Lives and works in Stockholm and Amsterdam (NL)
Lecturer in painting at Örebro Konstskola since 2010
Education:
2011-2013 Kungliga Konsthögskolan, Projekt Grafik, Stockholm
1996-1999 Gerrit Rietveld Akademie (B.F.A.), Fri Konst, Amsterdam (NL)
1994-1996 Örebro Konstskola, målerilinjen, Örebro, (SE)
Solo shows:
2017 – Those of the Unlight, PAPER Gallery, Manchester (UK)
2017 – Aniara, Stipendiatutställning, Galleri Aniara, Sollentuna (S)
2016 – Black Metal Girls, PAPER, Manchester (UK)
2015 – Those of the Unlight, Riche, Stockholm (S)
2015 – Open Studio, Sollentuna Konstronda (S)
2014 – Come Twilight, Come dark night, Peek-a-boo Gallery, Perth (AU)
2013 – Rematch, Trajector Art Fair/Art in Bloom, Brussels (B)
2013 – Frozen Time, Galerie Helder, Den Haag, (NL)
2013 – Ur Skogen, presentation på Hedengrens Bookstore, Stockholm 
2012 – Of Ice and Movement, Galleri Mejan, Stockholm 
2012 – Transylvanian Hunger, Konstfrämjandet Bergslagen, Örebro 
2012 – RETROspect, Charles Bank Gallery, New York (USA)
2011 – New Work, Galleri Örsta, Örebro 
2011 – Into the Starless Night II, Galerie Ron Mandos Gallery, Amsterdam (NL)
2011 – Into the Starless Night, Galerie 37, Haarlem (NL)
2010 – the Undutchables, Galleri Blå, Linköping
2010 – Darkness Visible, Riche, Stockholm 
2009 – Darkness Visible, Serieuze Zaken Studioos, Amsterdam (NL)
2009 – A Painting Solo Show, Serieuze Zaken Studioos, Art Amsterdam art fair (NL)
2009 – Ride The Lightning, Black Jim Gallery, Berlin (D)
2008 – I Need To Watch Things Die, Odea Gallery, Stockholm 
2008 – Nordic Lights, Tapper-Popermajer, Teckomatorp 
2007 – Paint it Black, Kunstcentrum Catharinakapel, Harderwijk, (NL)
2006 – Being There, Dubbelbee Gallery, Amsterdam (NL)
2006 – A Blaze In The Nordic Sky, Galleri Örsta, Örebro 
2004 – Helvete, Loerakker Galerie, Amsterdam, (NL)
2004 – Walpurgis, Raid Projects, Los Angeles (USA)
2003 – Initium, Galleri Karlslund, Örebro 
2003 – KunstRai, Loerakker Galerie, KunstRai Art Fair, Amsterdam (NL)
2002 – Fellow Travellers, Loerakker Galerie, Amsterdam (NL)
2002 – All Other Desires Asleep, Konsthallen, Örebro 
2002 – Ask The Dust, Stedelijk Museum Bureau, Amsterdam (NL)
Group shows:
2017 – Semiotic Guerilla Warfare IV, Charlie Smith Gallery, London (UK)
2017 – Inspiration, Örebro Läns Museum (S)
2016 – The Cat Show, PAPER, Manchester (UK)
2016 – Landscape and the City, Galerie Helder, Den Haag (NL)
2016 – A Bad End Story, Berlin (G)
2016 – Into the Deep Woods, PAPER, Manchester (UK)
2016 – Papered Stories, LMAK Gallery, NYC (USA)
2016 – Orange Water II, Santorini (GR)
2016 – Into the Deep Woods, A Space, Luzern (CH)
2016 – Into the Deep Woods, Heimspiel, Basel (CH)
2016 – Painting Failures, Moderna Museet, Malmö (S)
2015 – Liste Köln, Paper Gallery (D)
2015 – London Art Fair, Paper Gallery (UK)
2015 – Utanför Ramarna, Örebro Läns Museum
2014 – Utanför Ramarna, Rådhuset, Örebro
2014 – Exchange Rate, Platform Gallery, Brooklyn, NYC (USA)
2014 – Snow in Summer, Peek-a-boo Gallery, Perth (AU)
2014 – Barnaby Festival, Macclesfield (UK)
2014 – Droomkunst, Singer Museum, Laren, (NL)
2014 – 10 år jubileum, Galleri Garaget, Småland
2014 – Under Visning, Galleri Heidrun, Torsby
2014 – Functionality of Thought, AAF, Battersea, London (UK)
2014 – Supermarket Art Fair, Paper Gallery, Stockholm
2014 – Malou Efter 10, TV4, studio installation
2013 –Paper #10, End of the Line, Paper Gallery, Manchester (UK)
2013 – Manchester Contemporary, Paper Gallery (UK)
2013 – Amsterdam Drawing, Ron Mandos Gallery (NL)
2013 – Summer Knows, Galerie Helder, Den Haag (NL)
2013 – Van Bij De Buren, Scotland, Kasteel Keukenhof, Lisse, (NL)
2013 – Galleri Astley, Uttersberg
2013 – Art Warehouse, Galerie Helder, Rotterdam (NL)
2012 – AAF, Frihamnen, Jonas Kleerup Gallery/Villa Contemporary, Stockholm
2012 – Nordens Ljus, Stockholm 
2012 – Vårutställningen, Kungliga Konsthögskolan, Stockholm 
2012 – Galleri Jonas Kleerup, summer show, Stockholm
2011 – PAN Amsterdam Artfair, Amsterdam (NL)
2011 – Nieuwe uitleenschatten, CBK, Der Aa-kerk, Groningen (NL)
2011 – Apopcalypse Now, Nieuw Dakota, Amsterdam (NL)
2010 – Också vidare… Örebro Läns Museum
2010 – Förr och Nu, Kumla Konsthall 
2010 – Villa Contemporary, Stockholm
2010 – NorArt Nora/Örebro
2009 – Serieuze Zaken at AAF art fair, Amsterdam (NL)
2009 – Landschat – Galerie Bianca Laandgraaf, Laren (NL)
2009 – Grupputställning, Örebro Konsthall 
2008 – Grupputställning, Örebro Konsthall 
2008 – Vinter, Galleri Örsta
2008 – Something and Something Else, Museum Van Bommel Van Dam (NL)
2008 – Gallery Selection, Tapper-Popermajer, Teckomatorp 
2008 – Örebro Open Art 2008, Örebro
2008 – Zomerparade, Galerie Bianca Landgraaf, Laren (NL)
2008 – Quant a Moi – Willy Schoots Galerie, Eindhoven, (NL)
2008 – WeAreThe SuperlativeConspiracy, Robert Berman Gallery, LA (USA)
2008 – Swedish Destiny and Adventure, Sebastian Guinness Gallery, Dublin (IE)
2008 – Project(or), Showroom MAMA, Rotterdam Art Fair, Rotterdam (NL)
2008 – Grupputställning, Örebro Konsthall, Örebro 
2007 – Kerstmarkt, De Paviljoens, Almeere (NL)
2007 – Grupputställning, Galleri Örsta, Örebro 
2007 – Koninklijke Schilders Prijs, Gemeente Museum, Den Haag, (NL)
2007 – Destroy Babylon, Sixspace at Year_07 Art Projects, London (UK)
2007 – 11/194 m2, ODEA Gallery, Stockholm
2007 – Islands, Dubbelbee Gallery, Amsterdam (NL)
2007 – A Winter's Nights Striving Towards Summer, Lemonst. Gallery, Dublin (IE)
2007 – Dreamland, Kunstvereniging, Diepenheim (NL)
2007 – Dreamland, Gist, Brummen (NL)
2006 – The Shape Of Things To Come, Galleri Jonas Kleerup, Stockholm
2006 – 'Selectie 06, Centrum Beeldende Kunst, Dordrecht, (NL)
2006 – Oceanic Waves, Holland & The Nordics, Kaapeli Tehdas, Helsinki, (SF)
2006 – Koninklijke Schilders Prijs, Gemeente Museum, Den Haag (NL)
2006 – Art Rotterdam, DubbelBee Gallery, Rotterdam (NL)
2005 – Fultjacks Blot 23, RAID Projects, Los Angeles (USA)
2005 – Small Wonders, Pharmaka Gallery, Los Angeles (USA)
2005 – Koninklijke Schilders Prijs, Gemeente Museum, Den Haag, (NL)
2005 – Art For Sail, Bagage Hal – Loods 6, Amsterdam (NL)
2005 – Can't See The Forest, Sixspace Gallery, Los Angeles (USA)
2004 – Wim Izaksprijs – 10 jaar, Dordrechts Museum, (NL)
2004 – Koninklijke Schilders Prijs, Dam Paleis, Amsterdam (NL)
2004 – Aanwinsten 2003/een keuze, de Nederlandsche Bank, Amsterdam (NL)
2004 – KunstRai, Serieuze Zaken, Amsterdam (NL)
2003 – Absolut Empty – Galerie Buro Empty, Amsterdam, (NL)
2003 – Zweeds, Sandberg Instituut, Amsterdam, (NL)
2003 – Nothing can be hidden forever – Galerie Seriuze Zaken, Amsterdam (NL)
2002 – Wim Izaks Painting Prize, Dordrechts Museum, Dordrecht (NL)
2002 – Biennal van de eenminuten, Centraal Museum, Utrecht (NL)
2001 – Centered, Loerakker Galerie, Amsterdam (NL)
2001 – Art Twente, Loerakker Galerie at Art-Twente – Hengelo, (NL)
2001 – Art-Rotterdam, Loerakker Galerie at Art-Rotterdam, (NL)
2000 – For Real, Stedelijk Museum of Modern Art, Amsterdam (NL)
Awards and stipendias:
2016 – Sollentuna Kommuns Kulturstipendium (S)
2014 – Stockholms Stad, Ateljéstipendium, Stockholm
2013 – Cecilia Frisendahls Litografi Stipendium, Stockholm 
2013 – Stockholms Stad, Ateljéstipendium, Stockholm
2012 – Stockholms Stad, Ateljéstipendium, Stockholm 
2008 – Fonds B.K.V.B. – Basissubsidie, Amsterdam (NL)
2007 – Fonds B.K.V.B. – Werk Budget, Amsterdam (NL)
2007 – Koninklijke Schilders Prijs (Shortlisted), Gemeente Museum, Den Haag, (NL)
2006 – Koninklijke Schilders Prijs (Shortlisted), Gemeente Museum, Den Haag, (NL)
2005 – Örebro Läns Landstings Kultur Stipendium, Örebro (SE) 
2005 – Koninklijke Schilders Prijs (Shortlisted), Gemeente Museum, Den Haag, (NL)
2004 – Koninklijke Schilders Prijs (Shortlisted), Dam Paleis, Amsterdam (NL)
2004 – KDR KunstRAI Prijs (Shortlisted) KunstRAI 2004, Amsterdam, (NL)
2004 – Fonds B.K.V.B – Basissubsidie, Amsterdam (NL)
2002 – Wim Izaks Schildersprijs (1st prize winner), Dordrecht, (NL)
2001 – Fonds B.K.V.B – Startstipendium, stipendium young artists, Amsterdam, (NL)
2000 – Fonds B.K.V.B – Startstipendium, stipendium young artists, Amsterdam (NL)
Collections:
Museum Het Domein, Sittard, (NL)
Akzo-Nobel Art Foundation, Arnhem, (NL)
Océ Kunstbezit, Venlo (NL)
Peter Drake Collection
Hugo & Carla Brown Collection
Orebro Läns Museum, Örebro 
Örebro Kommun, Örebro
Örebro Läns Landsting, Örebro 
Elite Hotels, Örebro/Stockholm 
Loyens & Loeff, Amsterdam, (NL)
F. van Lanschot Bankiers, Rotterdam,(NL)
Leiden U.M.C. Kunststichting, Leiden, (NL)
Caldic Collectie, Rotterdam, (NL)
Nederlandsche Bank, Amsterdam, (NL)
Aegon, Den Haag, (NL)
Örebro Kontrakt/Örebro Universitet, Örebro
AB Kontorsrutin, Örebro
Reflex Modern Art, Amsterdam, (NL)
Mätcenter, Örebro
Orior Music AB, Göteborg
Catalogues:
Droomkunst, Singer Museum Laren, 2014
Supermarket Art Fair, 2014
Ur Skogen, Orosdi-Back 2013, Daniel Söderberg & Ragnar Persson 
Darkness Visible, Art book text: Frida Cornell, Daniël Bertina, H. Alberdingk Thijm
Art Amsterdam 2009, Amsterdam
Year_07 Art Projects, London
Militair #1, #2 & #3 Copenhagen/Oslo
Dreamland, Gist, Brummen
Oceanic Waves, Kaapeli Tehedas, Helsinki 
Art Rotterdam 2006, Rotterdam
Wim Isakz, 10 Jaar – Dordrechts Museum
WE SHOW ART – 10 years SMBA, Stedelijk Museum Bureau, Amsterdam
Proof of Principle – The Akzo Nobel Collection, Arnhem
Wim Izaks Schildersprijs – Dordrechts Museum
Ask The Dust – Jennifer Higgie, Stedelijk Museum Bureau, Amsterdam
Art Twente – Hengelo
For Real – Stedelijk Museum of Modern Art, Amsterdam
M.A.I.S. – Kulturbunker, Köln
Articles, interviews and features:
Title publication                                                         AuthorYear

Nerikes Allehanda Anders Erkman2014
P4 Radio ÖrebroMalin Holm2014
Totally Stockholm Peter Steen2014
Visualia (NL) Eric Bos2014
Mister Motley (NL)Daan van Tricht2013
Lost Painters (NL)Niek Hendrix2013
Nerikes AllehandaStefan Nilsson2012
D'SIGN magazine (NL)Gabrielle Voogt2012
Lost Painters (NL)Niek Hendrix2011
Nollnitton Jonas Källgren2011
Nerikes Allehanda Stefan Nilsson 2011
Nerikes Allehanda Urban Kristianson2011
No New Enemies (NL)Maxi Meissner2011
Kunstbeeld, NLArjan Reinders2011
Tableau, art magazine(NL)preview2011
Haarlem Dagblad, NLWilma Klaver2011
NRC Handelsblad NL, cultureele supplementSandra Smallenburg2011
Luciole Press, San Fransisco (USA)Karen Bowles2011
Luciole Press, San Fransisco (USA)Karen Bowles2010
Östgöta CorrespondentenLars-Ola Johansson2010
City StockholmNatalia Kazmierzka2010
People MagazineMirjam Johansson2010
Het Parool, NLDaniël Bertina2009
Anthem Magazine No 35, USAJennifer Nies2008
Att leva på Talang och FörmågaFriks.se2008
Dagens Nyheter På StanPernilla Ahlsén2008
Kulturstan.seJon Landquist2008
Helsingborgs DagbladMartin Hägg2008
DenimzineBjörn Westerlund2008
WeAreThe SuperlativeConspiracy, USAWeSC & Alex Prager2008
Metro Dublin, IRELucy White2008
Year_07 Art Projects, London, UKCaryn Coleman for Sixspace2007
Metro Dublin, IREJacqueline O'Mahony2007
Totally Dublin, IRE Peter SteenC.2007
Militair #1, #2 & #3, ScandinaviaUnderground art 2007-2008
Dreamland, Gist, Brummen, NLWim van der Beek2007
Modart, no 09, BHarlan Levey2006
Oceanic Waves, Kaapeli Tehedas, Helsinki, FIKarel Ankerman2006
Kunstbeeld, No 10, NLRobbert Roos2006
Nerikes AllehandaStefan Nilsson2006
Nerikes AllehandaFredrik Polback2006
Het Financiele Dagblad, NL         Edo Dijksterhuis2006
Art Rotterdam 2006, Rotterdam, NLDubbelbee2006
Modern Painters, Oct 2006, UKOssian Ward2006
Wim Izaks 10 JaarBert Janssen2004
Coagula Art Magazine, USAMat Gleason2004
Other:
2013 – Paneldebatt, Ur Skogen at Moderna Museet, Stockholm
2012 – pågående Vinkolumnist  för Totally Stockholm In Vino Päritas 
2011-2013 Styrelseledamot för Örebro Konstskolas Vänner 
2010-2011 – Utställningsjury för Rådhusets Julkalender, Örebro
2010 – pågående Målerilärare på Örebro Konstskola 
2008-2009 Kolumnist på Denimzine 
2007 -2009 Projektlärare på Örebro Konstskola
2007 – Curator "Set Foot" på Filmbase och "A Winter's night striving towards summer" på Lemonstreet Gallery för Absolut Swedish Festival i Dublin (IE) 
2007 – Art director för AnnK+Fberg, modevisning för Oslo Fashion Week, Oslo (N)
2006 – Gästlärare, Gerrit Rietveld Akademie, Amsterdam (NL)
2006 – Gästlärare, Örebro Konstskola, Örebro (SE)
2005 – Gästlärare, Örebro Konstskola, Örebro (SE)
2004 – Gästlärare, Örebro Konstskola, Örebro (SE)
2003 – Gästlärare, Gerrit Rietveld Akademie, Amsterdam (NL)
2002 – Curator för Museum Nacht, Stedelijk Museum, Amsterdam (NL)
2000 – Gästlärare, Örebro Konstskola, Örebro (SE)