Välkommen att besöka utställningen ANIARA!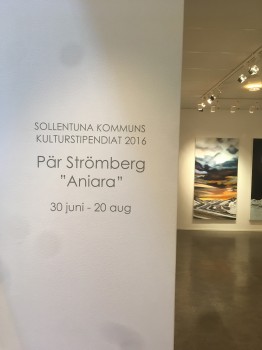 Öppettider under juli: 
Måndag – fredag kl.11-18
Lördag & söndag stängt
Hitta till Galleri Aniara
Adress: Sollentuna bibliotek, Aniaraplatsen 2, vid Sollentuna Centrums södra entré.
Postadress: Box 63, 19121 Sollentuna.
Pendeltåg: Kliv av vid Sollentuna station. Gå ut från
perrongen åt söder. Gå ned för trapporna och ta vänster i gångtunneln. Gå ca 50 meter rakt fram.
Bil: Parkering finns vid Sollentuna Centrum.
Huvudman för Galleri Aniara är Kultur- och fritidsnämnden i Sollentuna Kommun
As Pär Strömberg puts famed Swedish Nobel Prize laureate Harry Martinsson to the forefront in his latest body of work, a perfect alignment forms between the key element in the oeuvre of the latter, the 1956 space odyssey Aniara and Strömberg's work. A graduate of the prestigious Gerrit Rietveld Academie in Amsterdam and Royal Institute of Art in Stockholm, Strömberg's work has since long come to signify understated and evocative landscapes alluding to the inherent mysticism and universal lore of nature. Extending his personal trademark further, is the occasional heightened brooding and Goth visual realm, stressing the presence of a faint sense of menace and transgression while particularly weighing on iconography from heavy metal. As Martinsson's Aniara turned 60, Strömberg is last year's recipient of the Sollentuna Municipal Cultural Award inviting him to present the show at hand in the public library incidentally titled Gallery Aniara, situated moreover on Aniaraplatsen in the suburb of Stockholm that is Sollentuna. It appears that Martinsson like Strömberg who is a resident, spent large parts of his life there. However, intended as more than merely a peripheral homage to the writer relying on apparent happenstance, Strömberg makes use of the thematic nature of Aniara in its capacity as a poignant cautionary tale. Consequently, Strömberg offers a thought-provoking comment on the human condition of the present day, in light of known climate threats and challenges, the increasing ordeal of disrupted peace across the globe and the ongoing migrating crisis in contemporary society. In Martinsson's hands, Aniara assumes the identity of a space vessel taking course to Venus and Mars, transporting earth habitants away from the planet which on the account of nuclear havoc and environmental disasters has been rendered forlorn and beyond a state of hope. As Aniara accidentally steers off course out of the solar system propelling the passagers into their final day, the plot unmistakably mirrors tragedies taking place across waters along the borders of the European continent. Elementally, Strömberg's Aniara suite serves as visual score to Martinsson's dystopian prophecy, channeling into the ambient essence of the author's words. Meanwhile, unlike the inevitable fate in Aniara, Strömberg stresses room for glimmers of hope by way of otherworldly beauty and stillness casted by the illumination of light in glaciers, aerial phenomena and night skies amidst remote mountainous surroundings. The breadth of technique in Strömberg's Aniara suite encompasses aquatint etchings, watercolor and charcoal on paper and oil on canvas. As is usual with Strömberg's vision, it springs out of an abundance of references which beyond the literary are seated as well firmly in art history and more personally for Strömberg as an artist in music. As such, sounds of Mussgorsky's Night on a Bare Mountain and Satyricon's To the Mountains are said to have lent themselves to Strömberg's interpretation of Martinsson's Aniara. Given Aniara's metaphoric relevance, it seems as though for the viewer that approaching it could not be more timely and urgent in 2017, allowing for an arguably necessary reading of art beyond just the apparent aesthetical and conceptual into the pressing political of the now and today.
Stockholm, June 2017 – Ashik Zaman, C-print Journal
Adherent to the exhibition is an essay in Swedish by author Daniel Sjölin
Upcoming show: Those of the Unlight II, PAPER Gallery, Manchester (UK) 17 August – 30 September 2017
Related information:
www.sollentuna.se/sv/uppleva–gora/kultur-och-noje/Konst/galleri-aniara/
www.c-print.se/single-post/2017/06/13/ANIARA
www.norstedts.se/forfattare/116743-daniel-sjolin
www.totallystockholm.se/arts-culture/par-stromberg-takes-on-martinssons-aniara/
www.ng.se/artiklar/par-stromberg-tolkar-aniara